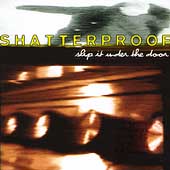 When Paul Q. Kolderie (owner of famed Massachusetts recording studio Fort Apache) was given his very own boutique imprint label of MCA records, one of the first bands he chose to sign was Minneapolis' Shatterproof. The band, which was originally named Hovercraft but was forced to change its moniker following a lawsuit from Eddie Vedder's wife who had a project of the same name, married jangly power pop with swirling indie rock guitars - or what they liked to call "a chunk of sad guitar noise". MCA/Fort Apache Records released the band's debut, "Slip It Under the Door", in 1995.
"Slip It Under the Door" received production from Polara frontman and fellow Minneapolis-native Ed Ackerson, as well as Fort Apache's Paul Q. Kolderie. Fort Apache had begun as a small studio in Cambridge, Massachusetts, but quickly found its way onto every one's radar after bands like The Pixies and Radiohead recorded landmark albums there - prompting MCA to offer the studio an imprint label opportunity. Unfortunately Fort Apache records folded almost as quickly as it formed, leaving most of its bands without a record label by 1996 - including Shatterproof, who had just recorded their followup to "Slip It Under The Door". This second effort, "Splinter Queen", went unreleased for years until 2007, when Catlick Records finally released the album, which is currently available at the
Catlick Webstore
.  Shatterproof split up not long after the dissolution of Fort Apache records, with members going on to form
Lunar 9
and
Landing Gear
.